Make this winter fabulous by visiting your hometown library. Check out "5" or more items in February at the same time and enter a drawing for a $10 gift certificate to Horsin Around. Choose from books, movies, magazines, audiobooks, puzzles, cake pans, and stamp kits. Read the Marshfield News Herald at the library. 
Love Your Library
February is National Library Lover's Month! Since 1883, American public libraries have been fostering literacy and serving communities. Visit us all month and share what you LOVE about libraries and more specifically, what you LOVE about Pittsville Community Library! We will be sharing your comments all month long in our weekly news article in the Pittsville Record and on our Facebook Page. Show us some LOVE!
Image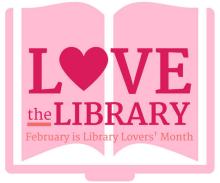 Upcoming Programs: Say "YES!" to your intellectual and social health!
Image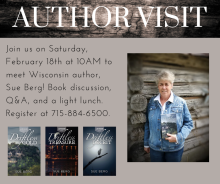 Image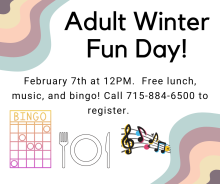 Image

 Homemade Bird Treats - Tuesday, February 14 at 1pm. February is National Bird Feeding Month and making your own treats for feathered friends is a great way to celebrate. Bring a coffee mug that you are fine with hanging outdoors. FREE event, but you must register at 715-884-6500. 
Reading Is Where It's At
Blind Date with a Book is Back! Beginning Februrary 6, choose a wrapped book that has a short description, check it out and take it home to read. Bring back the "Blind Date" slip when you return  the book to be included in a drawing.  "Check Me Out" is the kid's version of blind date. All kinds of wrapped books that the kiddos will love to take home. Return the slip for the prize drawing.
Image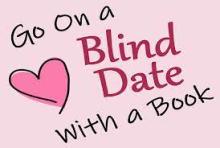 How to Use Libby- Your yellow library card gives you FREE access to ebooks and audiobooks through the Libby app. Download the free app on your device and choose Pittsville Community Library (South Central Library System). Enter your 3 or 4 digit library card then 54466. Call the library at 715-884-6500 if you need assistance.
Image

Grab a friend and get reading together with our Friendship Book Club. We have a great selection of books (2 copies each). You select the title and decide when and where you want to discuss the book. Free bookmarks available, too.
Image
Follow Your Library
Image

There is always something happening at Pittsville Community Library and the best way to stay updated is social media. Follow our Facebook page for weekly updates.