New Titles Arriving Weekly! Stop by to browse!
 Check out "5" or more items at the same time in November and enter a drawing for a $10 gift certificate to The Apothecary.
Pittsville in the 1920's
Join the Pittsville Historical Society for a slide show presentation and learn more about the history of our little city. November 14 at 11am. Soup luncheon to follow presentation. FREE event, but you must register at 715-884-6500.
Image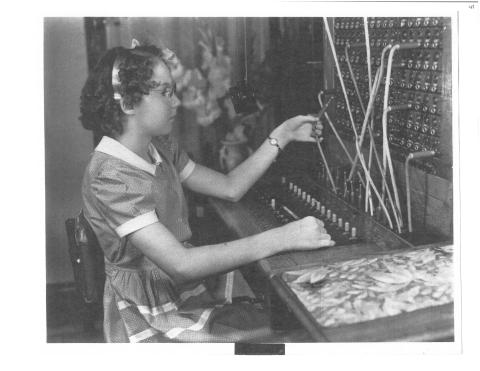 Upcoming Events & Programs
"Trick or Treat" - Stop in anytime during our hours on Halloween, October 31, for a special treat and activities. We will also be open during the city hours of trick or treating, 4pm-7pm.
"Painted Cork Turkey" - Join us November 7 at 1pm to make the cutest gobbler ever. FREE class. Registration required at 715-884-6500.
"Pittsville in the 1920s" - November14 at 11am. Register at 715-884-6500. 
"PANS Food Drive" - As part of the Pittsville Lions PANS campaign, bring your donated food items to the library between November 1 and 30. Thank you in advance.
"Adult Book Club" - November 15 at 1pm. Book discussion for "This Tender Land" by William Kent Krueger. Copies available at the library. 
"Card Class" - Our monthly stamping group meets every third Tuesday of the month. Join them by registering at 715-884-6500. In September please note we will meet. Plan for October 17, November 21, and December 19. Register at 715-884-6500.
"Book Nook Boutique" - Stop by to shop local handmade items perfect for holiday decorating and gift giving. One hundred percent of the profits go to the library. Opening on November 27 through Christmas. 
"Porch Pot Sales" - We will be making 25 porch pots of various sizes available for purchase at the Book Nook Boutique, on our Facebook page, and the day of the Hot Chocolate Hustle. 
"Writers Anonymous" - This is a NEW group getting off the ground. Calling all poets, writers, storytellers, and lovers of words to join us as we nurture our inner writer. Our intention is to motivate, encourage, and inspire. Everyone is welcome. Call the library for details. 715-884-6500.
"Yarnies & Friends"- Join us with your own project to work November 2 & 16, 10am-2pm. We do potluck lunches. Bring your own drink.
"Coloring Club" - Meets each Friday at 10am-12pm. Bring your own supplies or use ours.
.
 . 
Hot Chocolate Hustle
We are excited for our THIRD ANNUAL HOT CHOCOLATE HUSTLE! December 2 at 10am. Join us for a one or two mile walk through downtown Pittsville to benefit downtown beautification projects and the summer library program. Sponsored jointly by Pittsville Community Library and PHS FCCLA. Cost is $10. Register at the library or at this link. https://hot-chocolate-hustle-2023.cheddarup.com. Ages 12 and under are free. Weather could be a factor which could cause cancellation. Please watch our FB page for updates. Collected registrations will not be refunded if the event is cancelled but will be put towards the projects mentioned.
Image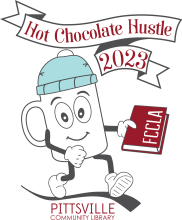 How to Use Libby- Your yellow library card gives you FREE access to ebooks and audiobooks through the Libby app. Download the free app on your device and choose Pittsville Community Library (South Central Library System). Enter 54466 and then your three or four digit library card number. Call the library at 715-884-6500 if you need assistance.
Image

Follow Your Library
Image

There is always something happening at Pittsville Community Library and the best way to stay updated is social media. Follow our Facebook page for weekly updates.