May is upon us! Check out "5" or more items this month at the same time and enter a drawing for a $10 gift certificate to The Apothecary. Our Summer Library Program begins soon! The first program is June 6 at 10:30am at Riverside Park. Summer reading begins May 30. See the link on the kid's page for details. The library will be closed May 27 and May 29 for Memorial Day observance. 
Summer Library Program 2023
We have SO much fun planned for the summer. Join us! Team Reading begins May 30! Weekly reading to earn awesome sports themed graphics to hang on our "Team Reading" Banner on the outside of the library. Weekly programs at Riverside Park and cool activities at the library. Our famous Scratchie Tickets are back. Follow us on Facebook for updates. Find more details by clicking the Kids tab and following the Summer Library Program link. See you at the library this summer!
Image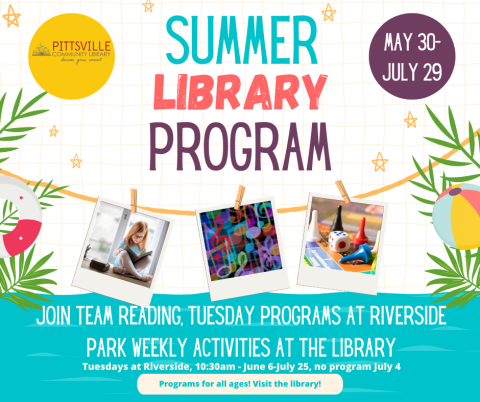 Upcoming Programs
"Pet Photo Contest" -  Celebrate photography and pets with us in May! Submit a 4x6 photo of your pet(s) between May 1-May 26. One entry per family. Patron voting May 30-June 3 to choose winner. See complete contest rules here: https://docs.google.com/document/d/1lAutBJsyctVFTwW3ZNEZ4jXwY-VORB_JM_p…
"Community Read with PHS AP Lit Class" - Join us as we read "All the Light We Cannot See" by Anthony Doerr and discuss on May 16 at 9am with PHS students. Copies of the book and discussion questions are available now at the library. Refreshments will be served. What a great collaboration! 
"Card Class" - Our monthly stamping group meets every third Tuesday of the month. Join them by registering at 715-884-6500.
"Spring Music Fling" - Local musician shares his guitar and voice May 23 at 1pm.  Join us for music and refreshments. Free event, but please register at 715-884-6500 to ensure adequate space.
"Summer Reading Begins May 30 - Kids and Adults!" 
 . 
2023 Poetry Winners
Announcing our 2023 Poetry Contest Winners:
Categories:
K-2nd grade - Eisley Fox "The Jungle"
7th-12th grade - Isabella Kimmett "The Poet's Tale"
Adult - Scott Borgman - "To Bring What's Dark Into the Light"
Congratulations to the winners and thank you to all the poets who shared their poetry with us. Join us in 2024!
Read the winning poems at this link: 
How to Use Libby- Your yellow library card gives you FREE access to ebooks and audiobooks through the Libby app. Download the free app on your device and choose Pittsville Community Library (South Central Library System). Enter 54466 and then your three or four digit library card number. Call the library at 715-884-6500 if you need assistance.
Image

Follow Your Library
Image

There is always something happening at Pittsville Community Library and the best way to stay updated is social media. Follow our Facebook page for weekly updates.