New Hours Beginning in September:
Monday: 2pm-7pm, Tuesday-Thursday: 10am-5pm, Friday & Saturday: 9am-12pm
Check out "5" or more items in September at the same time and enter a drawing for a $10 gift certificate to Pittsville Family Foods. We love to support local businesses.
New Lunch & Learn Series Launch
We are so excited to welcome Scott Seeger, Dementia Care Specialist with ADRC of Central Wisconsin to share great information about brain health. Free brain healthy lunch and fun trivia to follow the presentation. The event is FREE, but you must register at 715-884-6500.
Image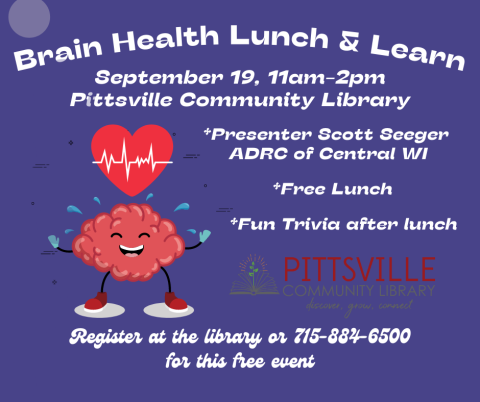 Upcoming Events & Programs
"Annual Book Sale" - Stop by during library hours on September 6, 7, & 8 and beginning at 8am on September 9 (in conjunction with the all city garage sales) for our annual book sale. Hardcovers will be $1.00 and .50. We have a lot of books again this year. Stop by to check it out!
"Fall Flannel Project Craft Class" - Join us September 12 at 1pm or 6pm to get a head start on fall decor with these fun and easy no-sew projects. Bring your own fall colored flannel shirt if you have one. We will have flannel material to create pumpkins, a banner, a leaf, and a mug cozy. You can make all the projects or choose which ones you'd like to do. See our FB page or stop in at the library to see the projects. FREE class. Registration required at 715-884-6500.
"Brain Health Lunch & Learn" - See details above for this September 19, 11am-2pm event.
"Adult Book Club" - September 20 at 1pm. Book discussion for "Take My Hand" by Dolen Perkins-Valdez. Copies available at the library. 
"Walkie Talkies" - Our walking book club meets weekly to discuss books and walk 2 miles through Pittsville. We meet in the evening and decide together the day and time that works for everyone's schedule. Current title is "Mrs. Everything" by Jennifer Weiner. We welcome new members!
"Card Class" - Our monthly stamping group meets every third Tuesday of the month. Join them by registering at 715-884-6500. In September please note we will meet September 26. Plan for October 17, November 21, and December 19. Register at 715-884-6500.
"Writing Group" - This is a NEW group getting off the ground. Calling all poets, writers, storytellers, and lovers of words to join us as we nurture our inner writer. Our intention is to motivate, encourage, and inspire. Everyone is welcome. Tentative September 25 at 6pm. Call the library for details. 
"Keep Your Smart Phone APPY" - Join Bug Tussel University and learn how to find, download, remove, and manage apps on your smart phone. September 28 at 10:30am. Register at 715-884-6500 for this FREE class. Plan for at least an hour, more if you have questions.
.
 . 
Kid's Story Time Returns
We love our weekly story time and you will too! Join our awesome volunteer, Elise, for great books, fun activities, movement and songs each Wednesday at 10:30am beginning September 6. No registration required. Bring a friend. 
Image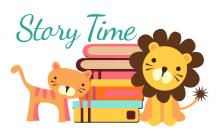 How to Use Libby- Your yellow library card gives you FREE access to ebooks and audiobooks through the Libby app. Download the free app on your device and choose Pittsville Community Library (South Central Library System). Enter 54466 and then your three or four digit library card number. Call the library at 715-884-6500 if you need assistance.
Image

Follow Your Library
Image

There is always something happening at Pittsville Community Library and the best way to stay updated is social media. Follow our Facebook page for weekly updates.